Fur Fight is a real-time multiplayer action game created with EJaw and Team Red Panda game development companies. Available for two platforms, iOS and Android, the Fur Fight game is highly popular among modern players and attracts more and more people every day. This game is a multiplayer arena for four players with quick battles for several minutes. Developing the Fur Fight, we have used our effort, knowledge, and time to the fullest to make a real boom!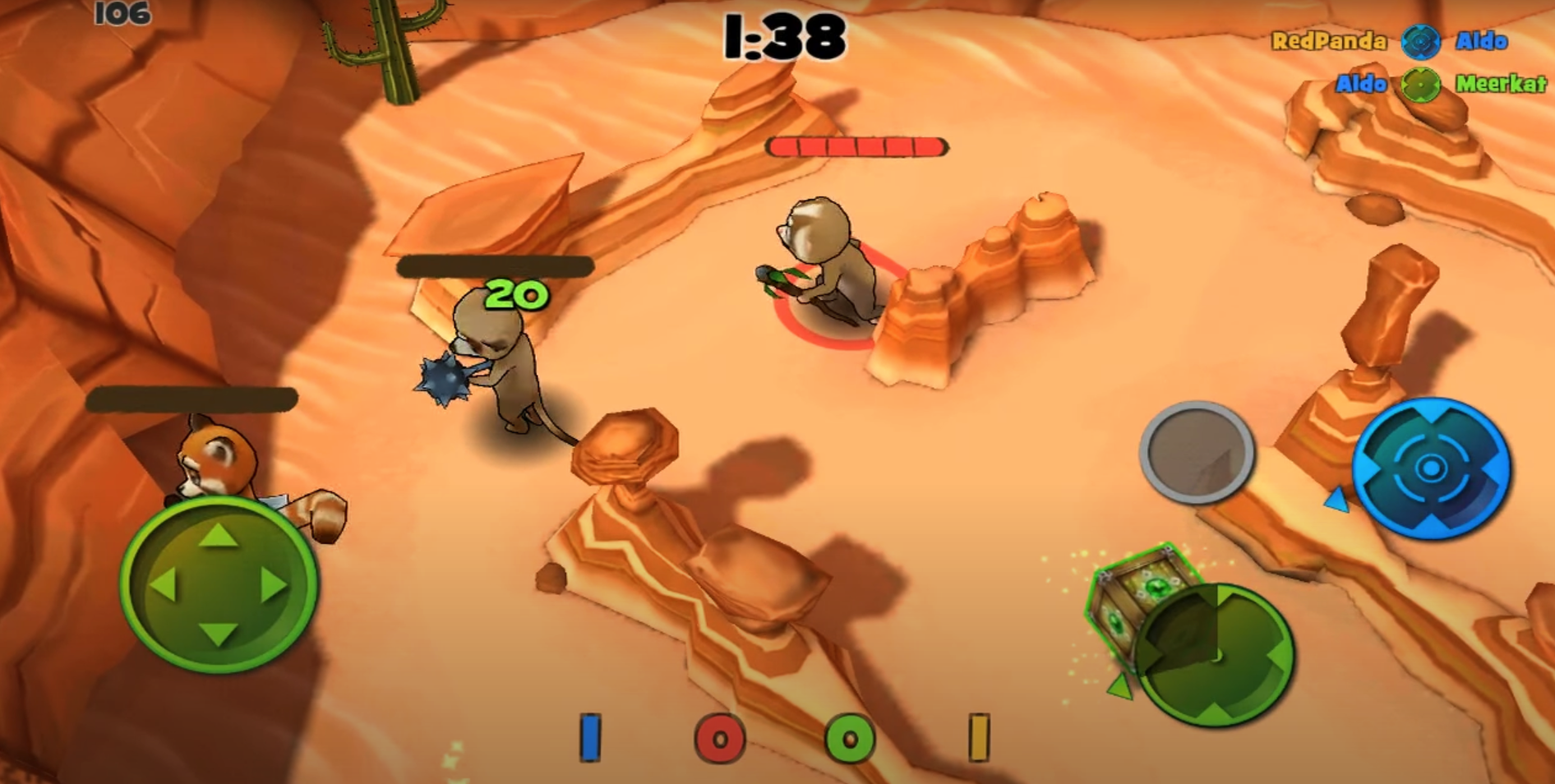 THE VALUE OF THE DEVELOPED GAME
Before the start of the jungle battle, the player needs to choose one of the characters to fight the bots or real opponents. The point of the game is to make as many kills as possible and win during the time allotted for the battle. The controls are very simple because we have introduced the use of a stick to move the character and two attack buttons to make it easier for any beginner to play and enjoy the amazing gameplay.
We also have introduced emerging crates, which contain random bonuses, such as a first aid kit, double damage, and more. The player can change the appearance of the character, the skin of the weapon, and purchase different hats. Generally, the following features make the game attractive for players:
Smooth and clear gameplay;
Straightforward interface and easy controls;
Addictive and funny characters;
Pleasant jungle environment;
Interesting story and challenges.
With the help of the powerful Unity engine, we are able to create such amazing games as Fur Fight. Cute and eye-catching gameplay attracts people, as well as addictive stories and challenges. The Fur Fight is one of the most successful projects we have ever developed. Smooth gameplay with glitch-free deployment and pleasant visual effects has raised Fur Fight to the top of popularity!
WHO IS A TEAM RED PANDA?
Team Red Panda is an indie game development company headquartered in Slovenia. Being able to develop amazing projects from 2016, Team Red Panda has developed dozens of 3D mobile games and has valuable experience in the game development industry. Thanks to their well-reputed experts and their ideas, EJAW has been able to create such a successful project as Fur Fight, which brought our client great income.
Team Red Panda develops amazing multiplayer games for iOS and Android, which bring companies to the rise in popularity. Each of the company's experts has a well-reputed portfolio and endless creativity. During 5 years, the company was able to create an amazing gaming community and make each project special for players!