SpaceJunk Rumble is a mobile 3D space shooter with an emphasis on PvP battles. The game was developed with our best specialists, introduced the best arcade game features and real boom. The game with simple controls and a user-friendly interface attracts people from first sight. Closed beta has already shown us positive statistics for players and what features are the most important for them. Thanks to the powerful Unity engine, our team of dedicated experts is able to meet the expectations of potential players and impress them with dynamic gameplay and incredible performance.
MAIN FEATURES OF THE GAME
SpaceJunk Rumble is a 3D multiplayer space shooter with thousands of real players in it. We have introduced dozens of attractive space ships to allow the players to choose what they want. The player can find the most optimal combination of ships in the squad without effort.
The game forces the player to turn on logic and think about how best to beat opponents who are on the way and want to destroy the ship. The atmosphere of the apocalypse forces players to try even harder to survive. We have implemented a trophy and star system to estimate the efforts of each player. The gameplay of the game adheres to the main idea and reflects all her thoughts about the time of the apocalypse.
Amazing animations and effects allow players to create the feeling of a real apocalypse and involve the player in the process of survival. The player can clearly see the target and kill other spaceships without effort, as the controls are very simple and straightforward.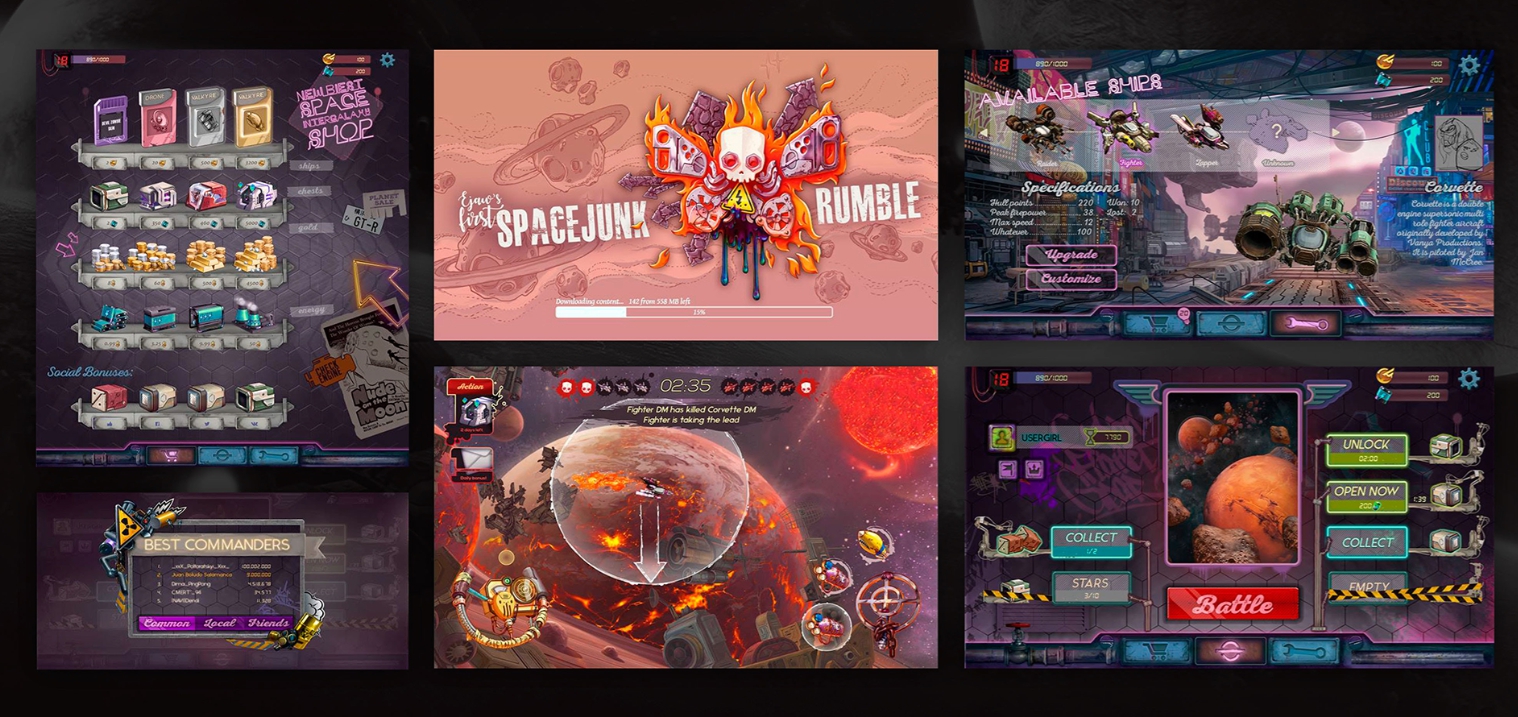 ABOUT THE PROJECT
Being produced by EJAW, SpaceJunk Rumble is one of the best games we have ever developed, because we attracted dozens of experienced experts in the game development industry and allowed them to give their best. Wonderful Galaxy environment with lots of greatly detailed space ships, and engaging multiplayer mode attract more and more players every day.
It took several years to develop this project, after which we successfully launched a beta test, which showed positive results and great interest from the players, which is very important for us. It's nice to know that our strongest team of well-reputed game development specialists is able to create absolutely any project and bring it to the top of popularity!